Guest post by Lauren McMullen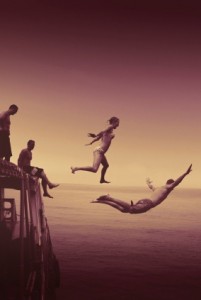 While Social Media has been around for a while now it is just now hitting the mainstream media so everywhere you turn someone else is jumping into the social media game.  Are you sitting on the fence and wondering whether this is something you want to try?  If so here are 7 important reasons that should help convince you to jump in and get your feet wet.
1. It levels the playing field between the solo-entrepreneur or small business person and the big boys.  Since the currency of social media is time instead of money it is a very economical way to get your word out when you are short on cash for your marketing budget.
2. It gives you access to people you would never get a chance to talk to under any other circumstances.  CEOs of large corporations and even our president have communicated with individuals on Twitter and Facebook.  In fact there are lots of people who believe that his savvy use of social media was one of the reasons he was elected.
3. It allows you to show your customers you really care. You can set up alerts for your business and personal name and then monitor anything that is said on the Social networking sites about you or your products and services.  You can thank people for compliments and if there is a problem you can respond quickly.
4. It breaks down barriers of space and time. You will be able to develop relationships with people all over the world.  Your marketplace can be global.
5. It gives everyone an equal voice even the shy or introverted person who normally stays more on the sidelines.  In fact that person may actually do better on social media that the extrovert who shoots from the hip and puts out a post before they have a chance to think it through.
6. It allows the entrepreneur or small business person to do invaluable market research so they can offer just the products their target market is looking for.  If you pay attention and listen to what your market is talking about you can give them what they actually want instead of what you think they want.
7.  If you are passionate about your products or services you definitely need to use Social Media to let your passion shine. As others feel your passion they will naturally be drawn to your blog site where you can showcase your products and services and more importantly they will know, like and trust you so they will be pre-qualified for the products or services you provide
Would you like to learn more about social media and how you can use it to market your business online? I invite you to visit this link and sign up for my free audio series, "The 7 Ways to Use Social Media to Help You Market Your Business Online". I am Lauren McMullen – Your Social Media Marketing VA and I help coaches, consultants, speakers, authors and other solo-entrepreneurs create a profitable and sustainable internet business by using Social Media to increase their visibility and credibility and to develop relationships with people in their target markets.