I received an email today from one of the many lists I'm subscribed to and it read,
I am a good listener.  Contrary to what you might expect from a "speaker" or "trainer", I actually prefer to sit back and just listen most of the time.  Today I'm going to share with you some of the things I've noticed… but first: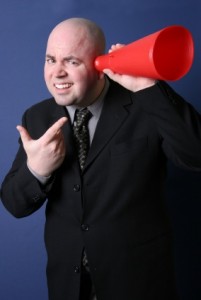 This person then proceeded to ramble on about everything they were doing in the next few months.  I didn't really get it, had I missed something?  If you're a great listener why aren't you asking questions?  Why are you just talking?  What about me?
This reminded me of when I first got into social media.  I thought about how great it would be to meet tons of new people using nothing but my computer and an internet connection.  I planned on making massive amounts of new friend who would want to listen to what I had to say.  I got so excited I just dove right in without a second thought.
What I didn't realize was that the real power in social media is in listening.   I got so caught up in the idea of having a platform to shout my message that it never even crossed my mind that I could or should actually listen to people.
Social Media provides us with tools to listen to what's going on, but for some reason most of us think these tools only work one way.  Here's a little tip, if you want to broadcast then stick to T.V. and radio ads.  If you want to use social media then be prepared to listen and interact.  If this doesn't sound interesting to you then get off of social media NOW before you kill your brand.
If you're just using social media to spread your message it will never be as effective as if you've listened to others, then joined in on the conversation that was already taking place.  The key to any good conversation is to be a good listener.
Before I go I have to ask you a very important question, Are you using Social Media to listen?