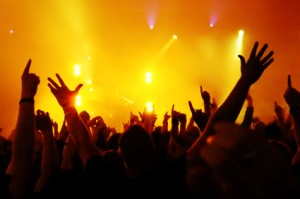 Over the last few weeks I've been touting the importance of friends vs. audience, this week I decided to play the other side.  Friends are priceless, but without an audience you'll be working much harder to get your message out to the masses.   I'm a bit of a stats geek, so I'll be sharing some numbers at the end of this post.
Last week I posted "What the Beatles Taught Me About Social Media."  It was geared more towards my audience then to my friends.  I ended up with 33 comments and 6 "Likes" through my friends, which is average.  On the other hand, when I promoted this note to my audience they scooped it up and it gained some serious momentum.
There were two major components to the success of this post.
1.  Knowing my audience.  Over the last year I've built up a quality audience using a Facebook fan page.  One of the most powerful tools behind the fan page is the analytics engine.  The information provided ranges from interactions within the group all the way to age and gender.  Armed with the knowledge that 60% of my fan base consists of women between the ages of 35-54 I knew anything about The Beatles would be a hit.

2.  A call to action.  Anyone who studies marketing knows that you should always have a call to action, yet no one seems to be using them in Social Media.  Why not?  How are people supposed to know what to do once they've interacted with your content?  We're all surrounded by noise on the web, attention is precious.  If your content is good enough to rise above the noise you only get a split second to turn the attention into action.  Here's how I got my audience to act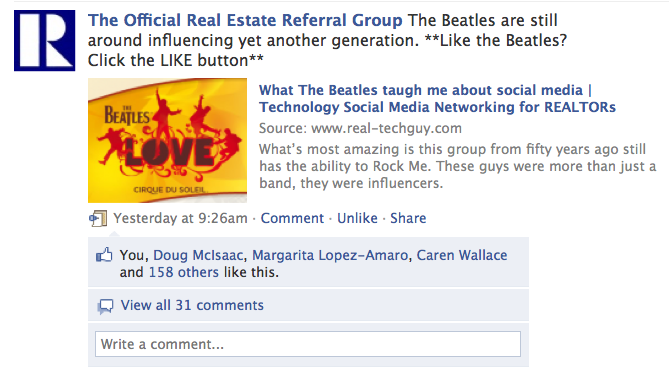 Yeah I know that was a little tricky, but it goes back to how well I know my audience.  Most of them also have a very short attention span, so giving them a quick call to action before they read the post is more likely to get them to act.
Now we'll get into some of the Geeky stats I promised you.  If you're not into stats, then I won't be hurt if you leave now…but before you do, I'd like to ask you to hit the "LIKE" button to let me know you've read this far.
The power of my audience:
Each week I promote my posts to the audience on my fan page.  Typically this results in 10-15 comments and equally as many "likes."  With that comes a spike in traffic to my blog of 85 or so visits.
When I ran The Beatles posts above you see that I ended up with 31 comments and 162 "likes."  Naturally I expected a big spike in my blog traffic that day, but I was disappointed to see that I only got 85 hits (the usual.)  I then began to wonder what the point of managing this big audience was if they weren't pushing traffic.
As I dug deeper I realized that the effect was felt inside of Facebook.  All these interactions led to a lot of activity within my page.  Typically I get somewhere between 350-400 page views per day.  On this day I ended up with 1,185 page views of which 410 of them were uniques.
If you're not following, that means all the activity brought 410 new people to my page that day.  The momentum continued into the next day with 1,521 page views and 635 uniques.  In the course of 2 days we had over 1,000 new people visit the page.
Judging by these numbers I have to say the quality of your audience is equally as important as the quality of your friends.  What do you think?