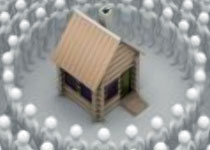 In this post I want to save you the two years it took me to realize:
To succeed in social media you need a team
When I first started out as a REALTOR I thought I could do it all myself.  That's a common mistake amongst entrepreneurs.  Just in case you didn't realize it, REALTORs are entrepreneurs.  I've made this mistake more times than I care to admit.
For instance, when I was buying and selling properties as an investor I did it all.  My list of responsibilities included:
Buyers Agent
Project Manager
Electrician
Painter
Carpenter
Drywaller
Sellers Agent
Why on earth would I take on all these responsibilities?  For the same reason every new entrepreneur does…to save money.  At that time I hadn't really considered the value of my time.  I'd hate to go back and put a price to the hours I spent doing all this work.  If I was smart I would have hired out all the trade work and just focussed on the buying and selling of these properties.
I bet you're wondering how this ties in to social media.
If you're like most REALTORs you're a one person show.  You market, sell, schmooze, and close deals.  How much more time do you have to do anything else?  If you're a good agent the answer should be none.
If that's the case, then why would you go and try to learn Facebook, Twitter, Linked In, Blogging, Web Design, SEO, and everything else that people say you need to be successful online?  Is it to save money?
Let's do a little exercise:
Take a moment to think about how much time you spend on the various social networks each day and multiply it by twenty (5 day work week).  Take that number and multiply it by your hourly rate (you can figure that out by taking the average dollar amount you make per deal divided by average hours worked per deal.)  My numbers look like this:
2 x 20= 40 hours per month

40 x $150= $6,000
Now that you've got those numbers worked out you need to figure out what your return on investment is.  How many deals are you closing through social media?  In my example I'd need to close one $200,000 deal per month to make up for my time spent online.
The point wasn't to discourage you, I just wanted to help you asses the situation.  If you're not getting the results you need then you only have a few options:
Stop using Social Media (not recommended)
Spend more time attempting to increase your return (REALLY not recommended)
Spend less time and hire someone cheaper than you to do it (Highly recommended)
To succeed in social media you need a team.  If you can hire out most of the work and spend less of your valuable time getting better results why would you do it any other way?  The numbers don't lie, chances are you're wasting time doing things that you can hire out for cheaper.
Don't worry, I'm not going to leave you hanging.  First I want to provide you with some social proof that I know what I'm doing, then I can go into my sales pitch.  Check out these search results for my brand:
What do you find in these places when you search for your name or brand?  If the answer is nothing, I can help.  Just send me an email to Jonathan [at] Real-TechGuy. [com] with the subject line "Social Media Evaluation" and I'll get in touch with you to schedule a call.