Hey Gang, we're doing some cool stuff over at the Real Estate Referral Group and I wanted to write a quick post to get you all caught up.  January was a spectacular month check out these stats:
Jan 2010- 92 Referrals

Jan 2011- 153 Referrals

That's a 60% increase in referral volume.
The Real Estate Referral Group is on Twitter
Subscribe to the New Referral feed here >> @ReferralAlerts
I avoided it for a long time but my friends finally dragged me onto Twitter kicking an screaming.  It's been a few months and I'm already starting to wonder why I didn't do it sooner.  I'll be writing more about twitter in future posts.
Now that I see the value in Twitter I think the time is right to share the Real Estate Referral Group's ***Referral Alerts*** via twitter.  I've met plenty of smart people using it and I believe this will benefit the group in two major ways:
1.  More people see the referrals – more of them have a chance to reply – better chance of referrals being placed.
2.  More referrals placed – more people use the group – more referrals.
We've only been online one day and here are the stats: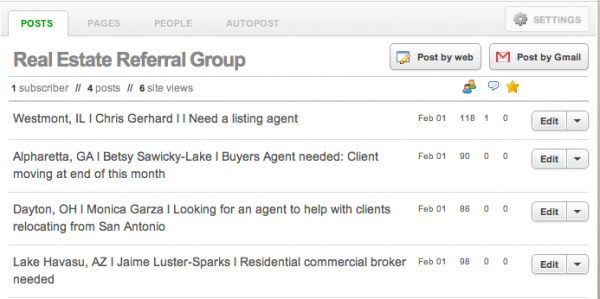 392 views on our test posts today.
Real Estate Referral Group Monthly Update
And just in case you like video, I made this video to share some stats + highlight some of the hottest conversations over the last few days.