Dear Friend,
Earlier this week I asked if I email you too much,
And then I got this response from a
reader in New York: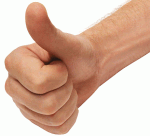 "Personally your email frequency is
just fine by me.
Made my first purchase of your generously
discounted package, the 'Marketing Grab Bag.'
The Landing Page Strategy Guide alone
has proven to be a big value
And will turn into a money maker for two
of my clients
Your succinct and to the point emails always
get opened + I like the simplicity of your sites.
It tells me what I need to know in a
timely and efficient manner."
Thanks for that Mitch! You made my day.
Too bad the 'Marketing Grab Bag' isn't still
available,

The good news is you can still grab the
"Landing Page Strategy Guide" here:
http://LandingPageStrategyGuide.com
And after you try it out, maybe you'll send me
a glowing review like Mitch
That's all for today, keep rockin'
Jonathan