Get More leads in 3 days using Mobile Marketing

3 Days of Training FREE!
A quick way to get more leads is to use Mobile Marketing, the problem is that most companies are charging an arm and a leg for their "mobile solutions."
The Mobile Product X Manuals were created to take you by the hand and show you how to build your mobile marketing web site step by step in 3 easy to follow manuals.
You'll get 3 Manuals in 3 Days
In Manual 1 you'll learn how to setups your mobile site using a Free Tool called WordPress 😉
In Manual 2 you'll learn what Theme to use to make your site look good and work great.
In Manual 3 you'll learn exactly how to build your site to get visitors to call You.

Hundred of agents from every major brokerage have been using this system to get more leads and close more deals since last year. Check out what this Real Estate Agent from Boston has to say about the system.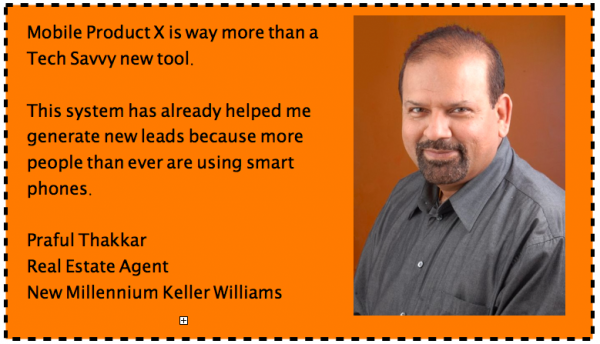 Get All Three Manuals FREE!
As a special "Thank You" for being a loyal subscriber to my newsletter I want you to have all three of the
Mobile Product X
manuals absolutely FREE.  Seriously, no strings attached.
Just Give me Your Name & Email Address in the form below and I'll deliver 1 manual per day over the next three days.