Module 6 | List Building
Alright, this is where all your hard work will start to show some tangible results.  If you've tuned in to the conversation, built up your networks properly, and have started sharing links that people are clicking the next logical step is to start list building.
We're going to keep it very simple in this module.  No videos, no frills, just real strategies for building your list. (actually, I may add some videos later…but don't use that as an excuse to wait to build your list…START NOW!)
Why would you want to build a list?
An email list is one of the highest levels of "permission" our prospects give us.  When they Opt-In to your email list, they are saying, "Hey, it's OK to contact me as long as whatever you send is relevant to what I signed up for."
Think about this for just a second.  If I had an opt in form on my Blog offering you Free Facebook training in exchange for my name and email address and then sent you an email about a Webinar on Taming Monkeys would you be a little confused?
Yeah, I would too.
Now, back to reality.  Take that same email list and offer them a Training Webinar on how to use Facebook chances are they'd be very interested.
My point, when you're building your list, always keep in mind the initial offer you made to the people on your list.
Your email list is a way for you to "prospect" for leads.
You can use your email communications to:
Encourage Questions:  A Sample email would read:
Hey [Firstname],
Last week you downloaded our report on "How to buy foreclosure condos on the beach"
After reading the report I bet you have some questions on how to get the best deals, so I wanted to let you know that I'm here for you.
Should you have any question on buying foreclosure condos, shoot me an email and I'll make sure to get you a response.
All the Best,
JR
-This opens the door for the people on your email list to ask you a question LIVE.  That could possibly be a hot lead.
Bring People from online to offline:
For instance, if you've built this list, and you decide to host a Foreclosure Condo Bus tour, you could let the people know about the event and encourage them to join.
If people actually get off their butts and join you for this tour, you've got some hot prospects.  If only one joins you, you've got a customer ready to look at houses and possible buy.
Method One :  Using Google Forms to build a list
(If you missed the video of this method, go back to the webinar replays and watch webinar #2.  About 5 minutes & 30 seconds into the video I show you how to use a Google Form as a survey and list builder)
Tools:
Google Account (Using Google Docs)
1.  Go to Google Docs
2.  Click on "Create New"
3.  Choose "Form" from the drop down menu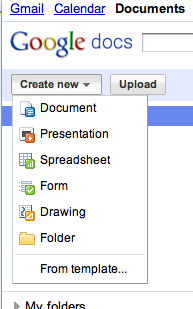 A new page will open that looks like this: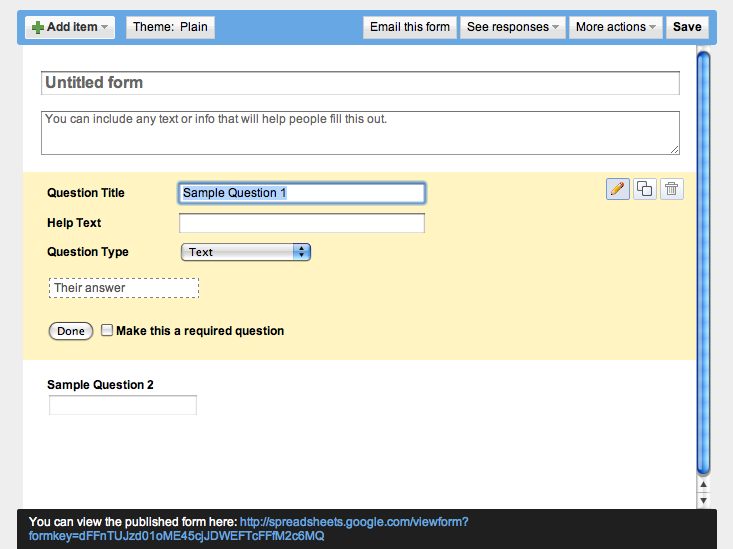 4.  Give your form a title
5.  Give your form a description.  If you're giving something away (like an ebook you may want to mention that in the description.  That way people know what they're getting for filling out the form.)
You can edit questions by clicking on the pencil, the two squares will copy a question, and obviously the trash can will delete the question.
For more on creating Google forms click here.
Why use Google Forms?
I recommend using Google forms because they are quick, easy, and you don't have to be a technical wiz to use em.  Once you saved your form you can send people to it buy using a link (look at the bottom of the form, it gives you a URL ((Link)) which you can use to push traffic (people) to your form)
This is a great way to test offers and get people to opt in.
Your form could be as simple as name and email address so you can deliver an ebook (or whatever offer you made.)
When people enter their information it will be kept in a spread sheet in your Google Docs.  That's your first "list."
Method 2: Using Aweber
Aweber is an autoresponder service that helps you build and manage your email list.  Currently I am using Aweber because it has many features that I find very useful in testing.
You can sign up for Aweber by clicking here (Disclosure: That IS an affiliate link)
Some of the features I really like about Aweber:
This service offer a high deliverability rate.
Testing:  You can split test your campaigns in order to improve your message.
Stats:  They offer great stats including how many of your emails were opened and how many people clicked your link.  By keeping an eye on these stats you can consistently evaluate your marketing message helping you to make improvements.
I generally use Aweber opt in forms on my blog.  To learn how to create and add an Aweber form to your website click here.
Method 3: Using Webinars
Webinars are a really easy way to create some good content while building your list.  People RSVP for webinars with their Name and Email address so they can receive updates.
I recommend Go To Meeting for creating webinars.  Some of the top reasons I use it are:
Stats:  They offer downloadable stats on how engaged your audience was.
Email List:  When people RSVP for a webinar, they leave their name and email address.  This is an automatic list builder.
When using Go To Meeting you can share a view of your desktop with your audience.  So if you were hosting a webinar about using the property appraisers website you could actually show people where to point and click.
Some tips for successful webinars:
If you've never hosted a webinar, be sure to do a test run beforehand to learn the controls, or partner up with someone that can run the platform while you deliver the content.
Keep them between 30-60 minutes.  Anything longer than that and you'll have to offer lots of value in either information or entertainment.
Make sure it's on target with what your network expects to hear from you.  Don't try to sell them Monkey Taming 😉