May 2009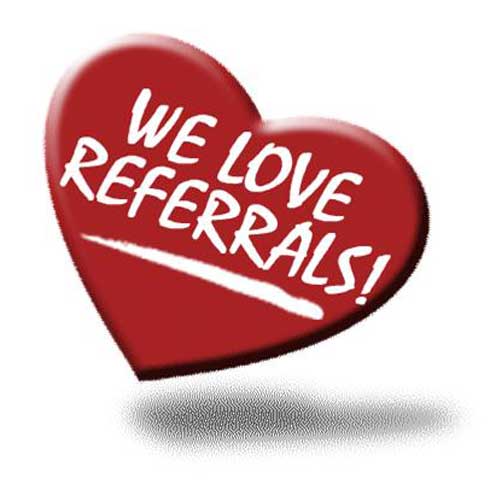 Here's one of the many benefits of
The Official Real Estate Referral Group
May Referrals
Myra Carpenter Branch wrote on May 3, 2009 Looking for a female Realtor in Murphy-NC for a listing referral
Mark Dale wrote on May 4, 2009 Referral Alert: I need an Agent in Las Vegas for a Short Sale transaction. Mark Dale – Boise Idaho. [email protected]
Barbara Miller Johncox wrote on May 4, 2009 looking for a realtor in the Fresno area. Not for short sales.
Bill Burke wrote on May 4, 2009 Referral!!Looking for an REALTOR in or around Stonybrook, NY area to a referral with.
Hudson Murphy wrote on May 4, 2009 I have a client that is moving from Minnesota to Massena, NY. Does anyone cover that area or know of someone that does? He needs a realtor and is flying out May 9-17th to hopefully look at homes. Please call me if you do 651-276-2349.
Lisa Lenstrom DiPasquale on May 5, 2009 Hello there! Not sure if this is appropriate for this page, but I have multiple buyers (one even cash) that would like to close quick in the Phoenix (Chandler/Gilbert/Mesa) East Valley. Inventory is really down and the nice homes are flying! If you have a listing avail or coming up, send it to me and let's get it sold!!! Call/Text/Email – 602-339-1939 [email protected]
Tricia Kelly Barron wrote on May 7, 2009 I have a client that is looking to purchase investment properties in the Durham,NC area. He is a cash buyer that closes on all properties in 2 weeks. If you are in that area and are interested please send me a message.
Laura Dawson wrote on May 16, 2009 I'm looking for a super-agent in the Florida Keys to refer a special family member who is looking to buy waterfront property to rehab. Anyone fit the bill? Please email me: [email protected].
I am a super-agent in Palm Beach County, Florida, if you have any referrals!
Rick Rixey wrote on May 19, 2009 Hello, I was just in Venice Florida looking to purchase something in Pelican Point Golf Resort. Does anyone know of any listings that I can buy? We are selling our condo on June 5 and need to do a 1031 Exchange. Ready to buy and need to move fast. Let me know!
Matt Smoot wrote on May 20, 2009 Hi, I need an agent who is licensed in both NY and NJ with experience to service a referral of mine. My client's brother is a first time buyer looking to purchase right away in NYC or Hobocum, NJ. Please e-mail me at [email protected] if you are interested. Thank You!
Beth Fread wrote on May 21, 2009 Need Realtor in Lake Harney, FL area to represent Seller on land deal… Know someone?
Jean Collins wrote on May 28, 2009 I have a seller in Kokomo , IN looking for an agent to help them sell a piece of vacant land. Contact me! Jean Collins, Max Broock Realtors, Birmingham, MI – [email protected]
Kathy Hammond Blalock wrote on May 30, 2009 I'm looking for a Tulsa Realtor experienced in condo sales.
Marie Sue Almeida wrote on May 30, 2009 I am looking for a Realtor in Pittsfield MA I have a buyer who has a home she needs to sell let me know if you can help
KathyandSteve Gomez wrote on May 31, 2009 Need a Top Producing Realtor in Tampa,Florida for a High Profile Client/Buyer. Agent must have 10 Million plus production per year and over 10 years experience.
Send info & stats to us via e-mail.