May 2010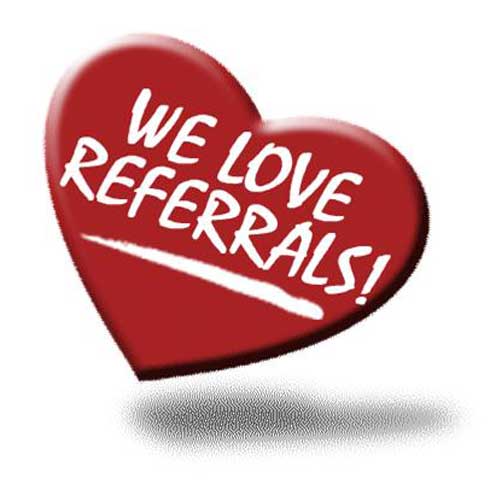 Here's one of the many benefits of
The Official Real Estate Referral Group
May  Referrals 
Columbia, SC

l

Gabrielle Blanchard Carneglia

  Looking to refer a buyer lead up to $400K to an experienced buyers agent. Please email Gabrielle Carneglia –

[email protected]

. Thanks!

 

Jacksonville Beach, FL

l

Christina McAllister Meinen

  Looking for a great Realtor to list my uncle's house in south Jax Beach on Duval Drive. Please email Christina Meinen (Destin Real Estate Company) at

[email protected]

.

 

Philadelphia, PA

l

Claudia Dubin Ryan

  Looking for an agent who handles rentals near Drexel University, don't need a referral fee just someone I can trust.

 

Memphis, TN

l

Juanita Simkins

  Looking for a listing agent that uses a home bidding system to sell homes (not an auction) for a buyer in CO who needs to sell their home quick in Memphis TN to purchase a new home (the lots/homes are moving quickly).

 

Sun Lakes, AZ

l

Hanna Manoufar

  We need a rental for February 2011 in Sun Lakes,AZ. Do you know any rental agency that can assist?

  

Saint George, ME

l

Dan Grammatica

  Saint George Maine, listing agent for large parcel of land with TLC home on it. How sales in Maine? Can you sell this? email: epro(at)realtybydan.com

 

 

 

 

 

Post Insights not yet available, please check back later.

 

 

 

 

 

 

 

 

 

 

 

 

 

 

 

 

 

 

 

 

 

 

 

 

 

 

 

 

 

 

 

 

 

 

 

 

 

 

 

 

 

 

 

 

 

 

 

 

 

 

 

 

 

 

 

 

 

 

 

 

 

 

 

 

 
What is The Official Real Estate Referral Group?
The Official Real Estate Referral Group is facebook's largest real estate referral network with over 40,000 members . It's also the only REALTOR directory in facebook. We have REALTORS from all around the globe listed in our directory.
Whether you're looking for a REALTOR or just want to advertise your business, The Official Real Estate Referral group is your one stop shop on facebook. Members enjoy free referrals, networking opportunities, and the latest social networking tips.
Now that you're here, you may as well take a look around. Check out our
HomePage
to see what's up with Social Networking.