I can remember when I was getting started, people were throwing around terms like "Landing Pages" and "Autoresponders." It was like a foreign language to me.
During the last "Internet Marketing Bootcamp" I came up with a few new flow-charts to make these "big ideas" a little simpler to understand.
In this post you'll learn what an email marketing system really is, and an easy way to set yours up right now.
You should already have traffic coming to your site, the next step is to convert that traffic from suspects to prospects.
Three things you'll need to build your email list.
Email Marketing Software. This tool will allow you to create opt-in forms as well as setup drip and broadcast campaigns to your subscribers. You'll also get stats, like how many people open your emails and how many click on your links.
Deliverable. If you're just starting out this can be as simple as a short report a.k.a. "White Paper," a video screen capture, or even an MP3. Whatever you're comfortable with.
Emails. Some people choose to write a set of emails ahead of time to keep their list warm, some just write to their list as if they were writing to a friend. There's no right or wrong way to do email marketing, you just have to do what works for you.
*IMPORTANT: If you're going to the trouble of creating an email list you'd better follow up with them or else your leads will grow cold very quickly.
The Email Marketing process
This flowchart is a follow up to the "Get More Traffic" post. If you're not getting traffic, then you should check it out now.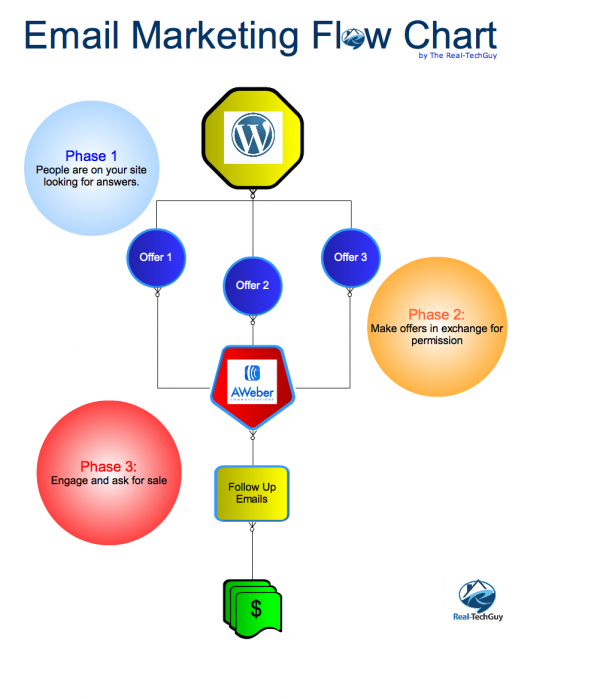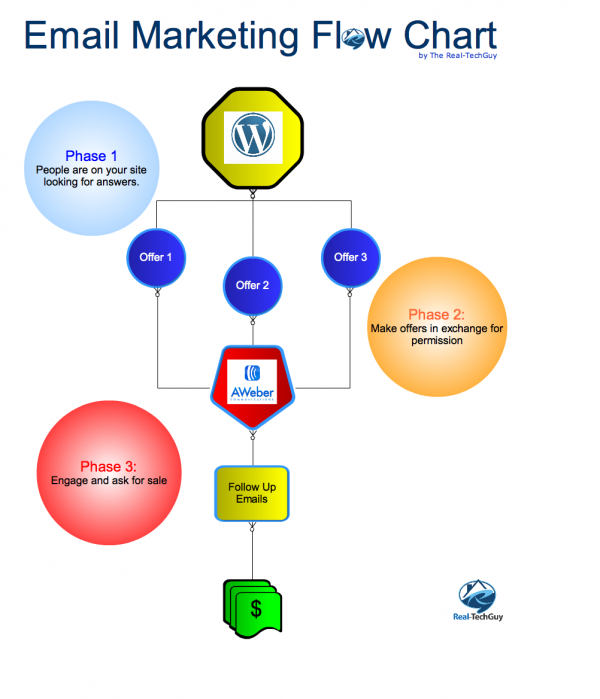 Phase 1:  People are visiting your site looking for answers.  You provide those answers through high quality posts.
**I show three offers here because sometimes you have to make the offer more than once for people to take action on it.  If you're new here you'll see that I have an offer on my sidebar, another at the end of this post, and yet another via exit pop-up.
Phase 2:  Once they've read a post or two you've developed some rapport.  This is the time to make an offer in exchange for permission to follow up with them.
Phase 3:  Now that you've received permission to follow up, you need to deliver a mix of content and sales.  The ratio I like to use is three content emails to one "offer" or "sales" email.
Next Steps:
Now that you know where to start, I bet you're wondering what the next step is, right?
If you want to get more leads, close more deals, and make more money, then you'll want to get in on the next "Internet Marketing Bootcamp."  See you there.