If I could offer just one piece of advice for REALTORs, it would be to Stop Sucking all the value out of every conversation and instead learn how to ADD value.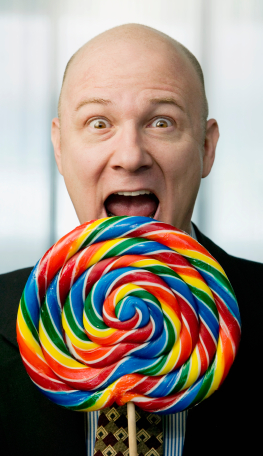 I've mentioned in past posts that social media is changing marketing and the first thing you need to understand is that No One Cares About You.  If you're still working in that old school marketing mentality you're doomed to fail online.
Everything you do online should have a clear value proposition for your network.  If you want people to listen you have to say something worth listening to.  If all you're doing is advertising prepare to be tuned out.
Why am I writing this?
To help you STOP being lame.  Yesterday I posted a "Conversation Starter" on the Real Estate Referral Group which gave agents a chance to shine (if they said the right thing.)

Here's how this works…  I post the question and the Fans of the page give answers in the comments section.  Pretty simple right?  What you have to keep in mind is the more replies we get the more people on Facebook will see this.  For those of you not in the "know," that's the real power os social media…Conversation.
Commenting on this thread does two things:
Gets the "thread" in front of more people.
Showcases a bunch of smart answers that homebuyers can use.
Gives REALTORs a chance to advertise (without advertising) <—more on that in another post
Here's an example of Doing it Right:

Those are two solid pieces of advice that any buyer would be happy to read.  Now here's an example of Doing it Wrong: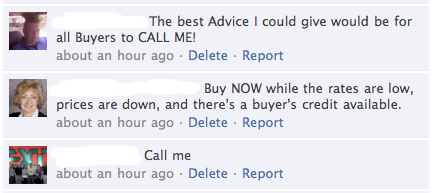 The one in the middle is good, however the ones directly above and below are LAME.  Please allow me to explain WHY these comments SUCK!
While the two comments on the first photos are adding value to the conversation the two comments on the second photos are SUCKING value from the conversation.  Do you think buyers will want to work with people who always TAKE or always GIVE?
Share your thoughts in the comments section below.