Sometimes mistakes turn out to be the best discoveries.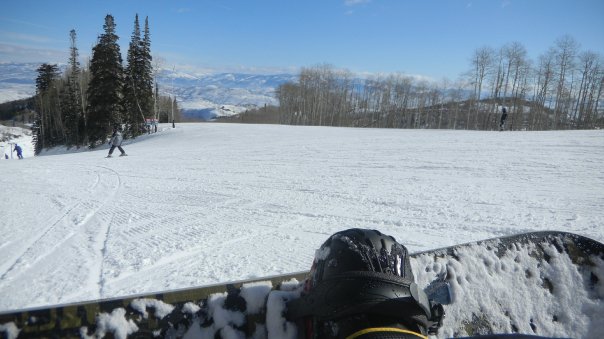 Last week I was working frantically to finish the first draft of a new product. I had only two days to whip out the recordings, videos, mindmaps, and transcripts before my wife and I were leaving for our first ever snowboarding trip.
The morning of our flight I remembered what I forgot to do…
I hadn't asked my VA to moderate my Facebook page while I was away. "Holy CRAP!" I thought, then how's everyone gonna get their referrals???
As I boarded the plane I quickly forgot about it and enjoyed my five hour internet free flight to Salt Lake City, Utah. When we landed we hurried off to get our equipment and hit the slopes.
***Did you know that Park City Chamber offers you a free lift pass on the day you fly in? You just take your boarding pass to the Park City ticket office and they give you a lift ticket***
Needless to say I forgot about my page and all my "responsibilities" as we began to enjoy our adventure swooshing down the powdery white slopes. The next morning I woke up and posted the regular morning referrals. Shortly after I realized that I had to get my page taken care of or I wouldn't be able to enjoy my trip. I quickly emailed my VA with instructions for moderation while I was away. That was February 5th.
Normally I post the referrals around 4 or 5 am EST. I didn't expect my VA to do that, so I just asked him to post them daily at any time. He started posting the referrals on Feb 6th. Watching the video below you'll see that we added 910 new fans between Sunday February 7th and Monday February 9th.
Can you guess what led to this growth? Here's what some of the top minds (in my sphere) thought:
(In order of their replies)

Peter Liu: Kaiscapes Internet Consulting

Drew Burks: Web Real Estate Tools

Tim Moore: @TimMoore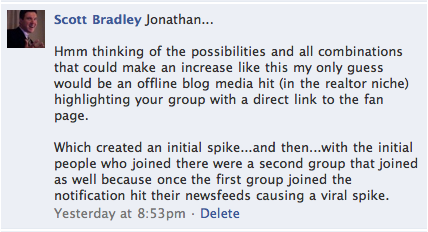 Scott Bradley: @ScottBradley
This is how we did it…
By changing the times we were posting the referral alerts, new people saw them. They either commented or joined the group and then the viral newsfeed effect took over (as mentioned by our pros above.) This shows that something as simple as posting time can have a dramatic effect on how you connect with your network.
Want to learn more about Facebook Pages?
I'll be writing more about how to use Facebook pages in your online marketing efforts.  Anyone can tell you how to put together a Facebook page, but how many of them can tell you what works…from experience? Make sure you  subscribe to my feed so you don't miss a thing.