In my last few posts I've been talking about event launch marketing.  Today I want to share how listening turned the event hype into a profitable product for Drew, Darin, and me.
As much as I'd like to complicate things to make you think this is impossible, I just can't.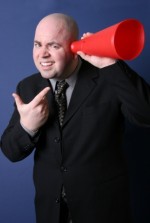 Listening to Event Hype
Throughout the event we kept the crowd engaged using the twitter hashtag #Web5 as well as keeping dialogues going on our Facebook pages [ Web Real Estate Tools, Productivity Junkies, Tech Savvy Agent, Real Estate Referral Group ]
There was one common questions that we kept getting from the crowd – "Where can I get the recordings?" This was similar to the question we used in Phase 2 of the campaign.
Event Sales
We thought the recordings would be valuable, but thinking and KNOWING are two different things.  If we wanted to have good event sales, we had to be sure we were delivering what the people wanted.
Survey
Thursday night I emailed out a survey giving our attendees a chance to submit questions to be answered on the 5th and final day of Web 5 – "The Panel Q & A Session."  In the survey I asked if people would be interested in purchasing the recordings if we made them available – sure enough a large percentage of people who responded said yes.
Action
On Friday's session we opened letting everyone know the answer to the Biggest Question – How they could get the recordings.  I also timed three follow up emails with links to the sales page with the first one starting at 12:30 Friday afternoon (right when they were on the call with us.)
Scarcity
It would be a mistake to make the recording available forever, so I decided to close the doors to this product on Sunday evening around midnight.
Doors Closed
As promised I closed the doors the VIP Members area on Sunday evening.  I feel bad for anyone who missed it, but they can always get on the waiting list for the next one.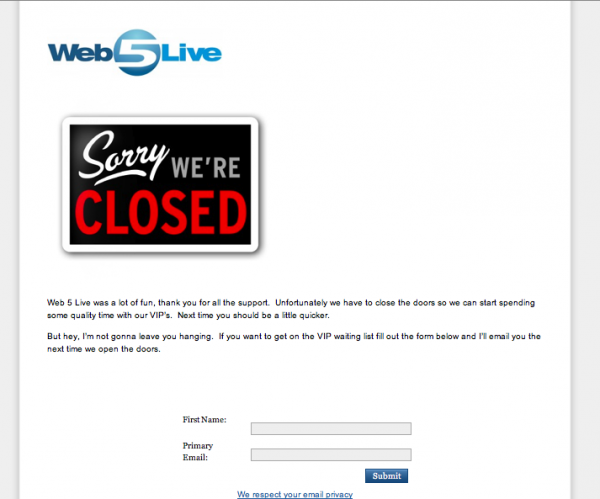 PS- While I can't tell you exactly how much we made at #Web5, I can certainly give you a sneak peak at how much we brought in within the first four hours.  It's right here in this post on posterous, "Paid is the New Free."
AND…
If you thought this post was cool, then you'll want to catch the next one.  Why don't you subscribe to I can deliver it right to your inbox when it's hot of the presses?