Let me start off by saying that I'm a huge fan of the work Chris Smith did at Tech Savvy Agent.
Although we didn't see eye to eye in the beginning as you can see by the "verbal battle" in this post about outsourcing almost 1 year ago.
I've been a big fan of his approach to educating agents on Internet Marketing since the beginning.
Just last week Chris left his job as sales person at Move.com to take on the position of "Chief Evangelist" at Inman News.
Some people said this was a game changer?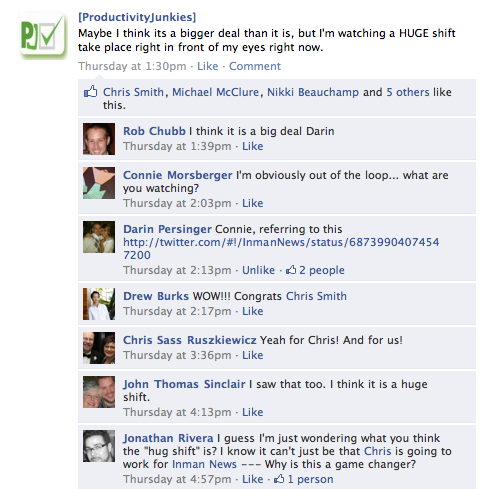 To be honest, I didn't get it.
Yes, I was proud of my friends well deserved new job – but how was this a game changer?
I was lucky enough to have Bejamin Bach, Jimmy Mackin, and Darin Persinger on "Web Marketing Strategies Weekly" (my latest radio show) to discuss this briefly.
Here's the clip (it's only 5 minutes.)
Darin enlightened me as to Why he thought this was "So BIG."
Here are my takeaways:
Most big companies are in the Red
These companies are doing what they've always done
Inman is NOT a Big Company (less than 50 employees)
This move Demonstrates Inman's Focus on Web Marketing.
While other companies are doing the same old thing – banner ads, selling shit, and keeping the doors open.  Inman has made a move into the "new media" space by bringing on someone who has actually used the tools to create a successful brand (Tech Savvy Agent.)
Most people don't know that Chris' job at Move wasn't to educate, but to sell banner ads, Top Producer, and Market Snapshot (listen to Ben's reaction in the clip above.)
The promise of his new gig at Inman is to lead by "Education and Innovation."
So what do you think?  Game Changer or not?  Lets discus it in the comments below.