I've been getting a lot of requests to share some of the things I'm testing on this site, so today I'm going to share 3 tests I'm currently running to improve my email opt in lists.
I'll also share the results I've had so far. (As a quick disclaimer – I'll be sharing pay tools that I use and they will be affiliate links)
Test #1: Popup Domination ($47)
I have never been a big fan of popups, but when I've got my Internet Marketing friends swearing by a new tool, I have to check it out for myself.
Popup Domination is a WordPress plugin that allows you to install an exit popup making an offer to your readers before they leave.  If you're new here, you'll see this when you leave: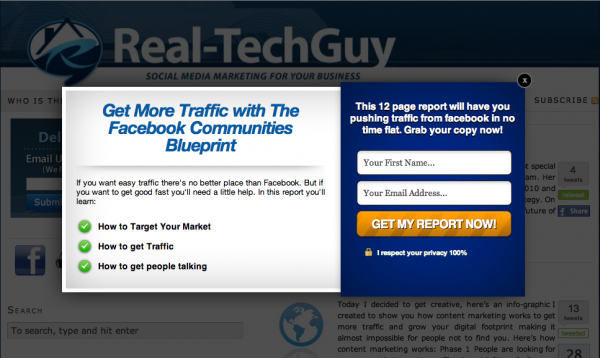 I just started testing this week and these are the results I'v gotten:

While these are less than stellar results, I think it may have something to do with my copy or offer.  Either way it's been just one week and I've added 25 people to my email opt in lists using it.
Test #2: Easy Video Player ($127)
This tool is used by some of the top internet marketers in the world.  Since it's a little pricier, it took me a while to finally grab a copy to test.  Right now I'm just scratching the surface of what it can do.  Essentially, it allows you to add HTML code over any video.
I first tested this tool in my post on Doubling Your Page Views.  Watch the video in that post and at the very end you'll see an email opt in form appear.  Here are the results of that test:

These results are much better than the exit popup, but I'm betting with a little work and a stronger call to action I can get this up in the double digits.
Test #3: Aweber opt in form (Starting at $19 per month)
This is my longest running test and my favorite tool for getting email opt ins.  It's always there, so it gets the most views.  Here's my latest version: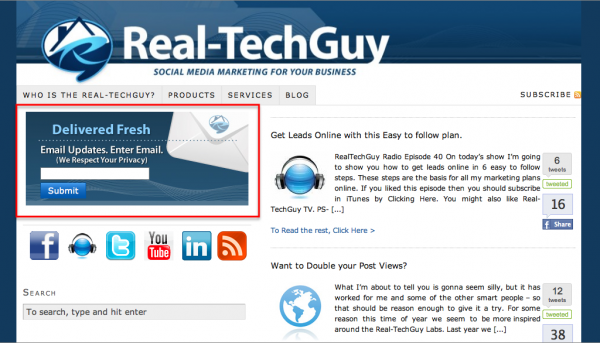 And the results for this test are terrible, see for yourself:

The good part about this form is that it gets the most views, so I can iterate quickly.  The last form I tested had triple the amount of conversions, but I wouldn't know that if I hadn't tested, right?  This is a more passive test, so I recommend having a stronger call to action (since it shows up on every page.)
Improve your email opt in lists
I hope that I've given you some ideas on different ways to build your email opt in lists.  If I had to choose just one of these tools I'd recommend using Aweber because you'll have more options on where to put your opt in forms, not to mention they offer a free trial.
Next step is to decide which tool you're gonna use and then start testing different offers.  Read this post on How to capture leads for some ideas on tests you can run on your WordPress site.
PS- If this post was helpful, you'll love what I have in store for you.  Be the first to get the updates delivered straight to your inbox by subscribing to the feed.